Model T Express Wagon
Central PA
Historic Overview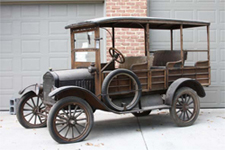 Occasionally, Howard Auto Preservation will come across an old, neglected car in need of some help that seems to "speak" to us. This was the case for a 1922 Model T Woody Express Wagon which was discovered in a central Pennsylvania garage, sitting along side some other rough looking vehicles, and was transferred to Alderfer's Auction & Appraisals to be sold. Howard Auto Preservation decided to save this 1922 Woody Wagon from another restoration.
We have seen far too many of these wooden vehicles get stripped of their remaining finishes. The old, original paint and minor surface rust gets blasted away, and out rolls a beautiful, shining new car. The problem is, these restorations are simply too beautiful and no longer have that historic look that makes them special and different; they end up joining all the rest of the restored cars that are being displayed. While we personally find this to be unfortunate, it is exciting to watch car enthusiasts "wake up" and become aware of this problem. When all original vehicles are gone, we lose our history of what these cars were, and all we have left are modern interpretations which are usually not completely accurate. People are starting to see the beauty in the "less than perfect" facades of these types of automobiles and appreciate the stories they tell.
Pre-Treatment Condition
Our goal with this car was to get it running again and preserve its in-use appearance. When conservation is done right, the over-all condition can be dramatically improved, without losing the authenticity or value; the vehicle will appear to have been cared for over time rather than having a look of abandonment.
An enormous amount of time was invested in order to be properly conserved. The wooden body had to come off so that we could have access to the engine and chassis. The entire vehicle was covered in layers of dust, grease, and grime. The Woody needed new tires, a downpipe, exhaust, radiator, and a new wiring harness. A few of the original, unsalvageable parts were removed, cleaned, and stabilized prior to their storage in archival boxes. The replacement parts, with the exception of the wiring harness, came from other un-restored Model T's.
We have discovered over the years that many of the replicated parts for vehicles often contain slight differences than the originals, mostly due to modern manufacturing processes. We always try to locate original parts or have them accurately reproduced. Everything has to be exact in order for a car to be preserved as a historic document.
This Woody Express Wagon had been a daily driver on Pennsylvania roads, and needed to be thoroughly cleaned to ensure that no chlorides from the salts would continue to pose future problems. All surfaces were meticulously cleaned prior to an application of our custom protective coatings. The coatings and the concentration ratios used in conservation are specially formulated for each vehicle and its particular needs. They are also completely reversible, meaning that they could be removed at a later time without affecting the original materials.
Treatment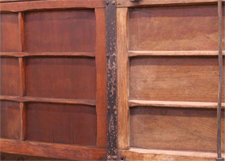 The surface rust on the metal was mechanically reduced and coated with resins which stabilize and prevent further corrosion from occurring.
Even though the wooden body of the vehicle had been weathered, it still contained much of the original finish. Through analytical testing we were able to determine that an oil-resin varnish covered the wood. We stabilized the remaining finish on the body by protecting and encapsulating it beneath a clear, reversible coating. This new coating also saturated the surface of the wood, and brought it back to the appearance that it would have had before the weathering occurred.
This is just a brief overview of some of the major parts of the conservation treatment of the Woody Express Wagon. We hope that this shows how we approach things differently than someone performing a restoration. This vehicle's look has been improved and stabilized without stripping away its history. Hopefully, more people will begin to see the beauty of cars like these.
Project Gallery
Click on any of the following images to enlarge