Time Warner World News Truck
Newseum
Background History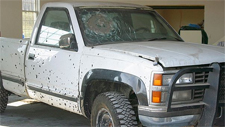 The Freedom Forum acquired a white, armor hardened 1993 Chevrolet Silverado pick-up truck that was used by the Time Warner World News Corporation to cover the Bosnian War in the 1990s. The four wheel drive vehicle was equipped with armored body panels and fuel tank, bullet resistant glass, and was fitted with run flat tires inserts. These modifications brought the trucks total weight to 7000 lbs. The vehicle sustained a lot of combat damage during its use by the reporters and photographers overseas. The Time Warner truck is currently on display at the Newseum, located in Washington D.C., which features an exhibit on the dangers of journalism.
Pre-Treatment Conditions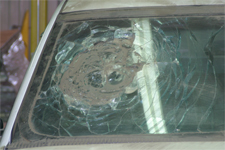 The truck was in fair condition despite all the combat fire it was subjected to. The passenger windshield had been hit and damaged by a rocket propelled grenade, and the side of the vehicle was riddled with bullet holes and shrapnel punctures. The Time Warner truck needed to be thoroughly documented and cleaned. It also needed to have the fluids removed, undergo paint stabilization, and have corrosion issues addressed prior to static museum display.
Treatment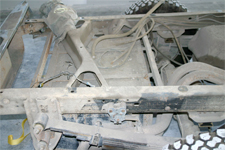 The Newseum contracted us to preserve the Time Warner World News Truck. Their new museum was is under construction, and we had to work hard to ensure that it would be completed in time for the opening. The first step was to place the vehicle in an envelope and fumigate in order to be certain that we would not be bringing any unwanted pests into the collection. Every part of the truck was photo-documented, which is standard protocol for any automobile our company works on. The bed needed to be removed in order to properly clean the debris from the frame and eliminate any salt chlorides that would contribute to the corrosion that was found.
After the cleaning was complete, a clear, reversible resin was applied to the chassis, engine, and mechanical components to prevent any future corrosion. The exterior paint was protected, and a clear, reversible thermoplastic resin was injected round the lifting paint which was found around the bullets holes. This resin was then heat set into place to prevent it from coming off and prevent future corrosion. The fluids were removed from the truck, along with the battery, which was replaced with an exact dummy replica. The Time Warner World News Truck was then transported to its newly constructed facility.
Project Gallery
Click on any of the following images to enlarge